Support Alzheimer's
Here at Pomodori, our family has been touched by this terrible disease and we hope with the support of our extended Pomodori family, we can help to fight for a cure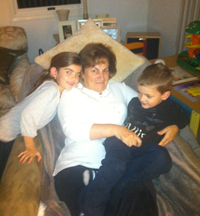 A Mother's Fight
My mother has been living with Alzheimer's for 5 years. Her daily struggles are things that you and I do as our normal routine. This disease has taken away her future, and the memories she would have created with her family, and most importantly her seven grandchildren.
Alzheimer's disease is always fatal and there is no cure.
Yet there is hope and promise for the future. The Alzheimer's Association is working hard to promote awareness, fund research efforts to find a cure, and support people with the disease and their families.
Alzheimer's is a type of dementia that causes problems with memory, thinking and behavior. Symptoms usually develop slowly and get worse over time, becoming severe enough to interfere with daily tasks.
Useful Web Sites
Donate by mail:
Send a check to:
Alzheimer's Association
P.O. Box 96011
Washington, DC 20090-6011
Walk to End Alzheimer's
Thank you to all our friends who helped us reach our fund raising goals. Every bit helps and you can always make a tax deductable donation to the Alzheimer's Association (see donate by mail).
Also, if you are interested in participating in the next years walk, please contact us for more
info
.
We hope that we can count on your support and to help us raise money for the Alzheimer's Association in honor of our mom!
With thanks,
The Nikolakopoulos Family